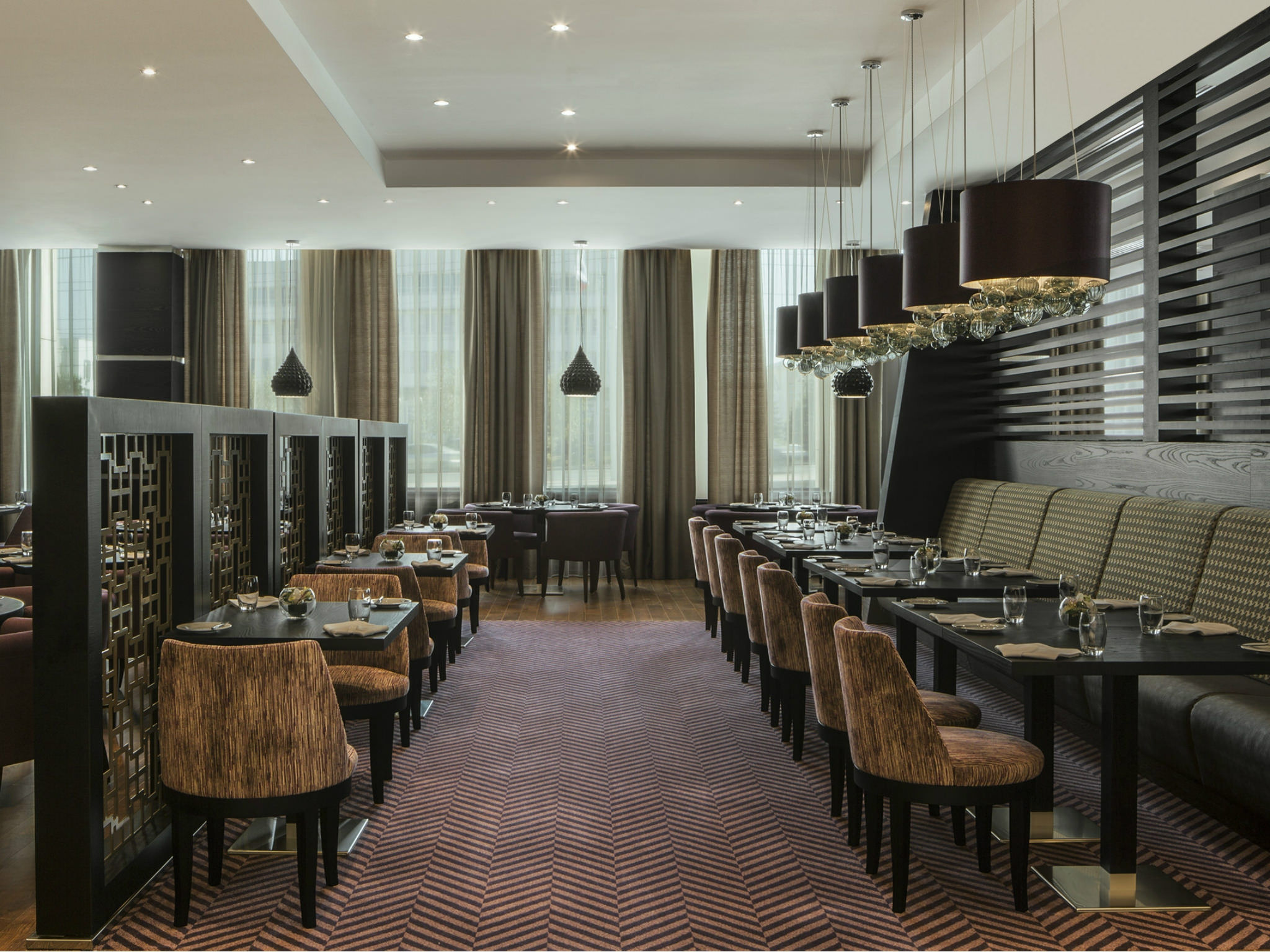 NOVUM Restaurant
Enjoy your breakfast, lunch or dinner in the modern and relaxed atmosphere of NOVUM restaurant providing a varied menu of international fusion cuisine. Choose from an international à la carte menu.
Cuisine: International & Local
T: (7)(347) 285 0130
Opening hours:
Breakfast:

Monday - Friday 6:30 AM - 10:30 AM /

Saturday & Sunday 6:30 AM - 11:00 AM

Lunch: Monday - Sunday 12:00 PM - 3:00 PM (Business lunches for 650/850 RUB)

Dinner: Monday - Sunday 6:00 PM - 11:00 PM
Every Tuesday, Thursday and Friday breakfasts and dinners are accompanied by piano playing.
Link@Sheraton Cafe
Chic and elegant, Link Cafe offers freshly brewed coffee and a wide selection of gourmet delicacies, desserts as well as soft drinks throughout the day.
Cuisine: Baked Goods & Desserts
T: (7)(347) 285 0203
Opening hours:
Monday - Sunday 7:00 AM - 01:00 AM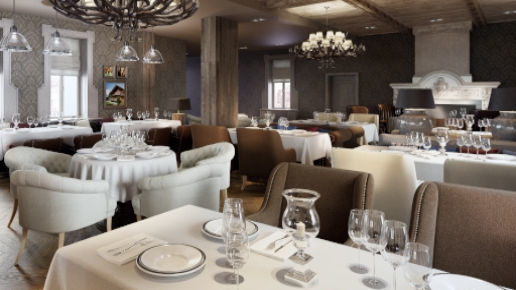 Rossinsky Restaurant
The creators of the project - the Moscow restaurateur Alexander Zaturinskiy and the company Soul Kitchen - due to the rich history of the house chose the basic concept of the restaurant recreate the image of the aristocratic country house in the middle of the XIX century, a modern interpretation of the style "chalets".
The direction of the kitchen, as in the second half of the XIX century can be described as a combination of the French approach to the Russian classics, has received international recognition under the name of "new Russian cuisine." The restaurant's menu is based on the farm products of Bashkortostan and other regions of Russia.
The interior created by a team MMZ Project: Maria Zhukova Doroshko and Maxim, who has previously worked with the Moscow projects as Erwin, Food Embassy, Hills, and the Sochi Red Fox, "Clouds".
The kitchen of the restaurant is headed by chef Cyril Rogoza from Sochi. He used to work with Vladimir Mukhin (White Rabbit entered the hundred best restaurants in the world). Rossinsky can accommodate up to 140 guests in two separate rooms - "Manor" and "Modern". The "Modern" is six-meter bar, behind which you can enjoy creative cocktails, vintage wines and freshly brewed beer of own production Rossinsky brand.
In the "Manor" there is a real fireplace with a wood-burning furnace. Also there are the wine room, a mini-stage for concerts, library. Entertainment program includes not only live music, but events with DJs and bands, as well as live broadcasts of sports events and movies screening.
Cuisine: French approach to Russian classics, internationally recognized as "New Russian" cuisine.
T: (7)(347) 295 9505
Opening hours:
Monday-Thursday 12:00 PM - 12:00 AM
Friday - Saturday 12:00 PM - 2:00 AM
Sunday 12:00 PM - 12:00 AM
Sky Lounge Terrace
Sky Lounge Terrace with panoramic view is located on the 8th floor of the Sheraton. Find a moment to enjoy great view, outstanding dishes and signature coctails. Spend amazing moments at the Sky Lounge Terrace.
Panoramic view
Classic and Creative cocktails
Japanese cuisine
European cuisine
Atmospheric music
T: (7)(347) 285 0140
skylounge-ufa.ru
Opening hours:
Monday-Thursday, Sunday 12:00 PM - 12:00 AM
Friday,Saturday 12:00 PM - 06:00 AM